The civic body has offered a special 15% discount to citizens who have diligently paid the property tax during 2020-21, the financial year plagued by the Covid-19 pandemic.
These tax payers will get the discount, which will be available only for residential properties, for 2021-22 . The 15% tax discount is expected to cost the Pune Municipal Corporation (PMC) around Rs60 crore.
"This discount is a token of appreciation towards the citizens who paid the property tax during the pandemic," leader of the house in PMC Ganesh Bidkar said during the general body meeting.
The leaders of all parties unanimously approved the resolution. The general body also rejected the 11% tax hike proposed by municipal commissioner Vikram Kumar.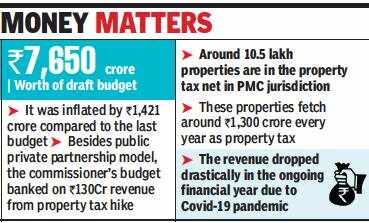 "This is a historical decision. The citizens have shown their trust in PMC during the Covid 19 pandemic," said Deepali Dhumal, leader of opposition in PMC. "The unanimous approval of the discount will send a message to society that the civic body cares for the citizens," said Ulhas (Aba) Bagul, leader of Congress in PMC.
"This sends a message that the civic body is with the citizens," said Prithviraj Sutar, leader of Shiv Sena in PMC. "This will be a big relie for the citizens," said Vasant More, his MNS counterpart.