With migrant workers back home due to the lockdown, the real estate sector in Visakhapatnam is finding it extremely difficult to get back to work.
Sources say that 60 per cent of the 3,000-odd daily wage labourers, who come to Visakhapatnam from neighbouring districts as well as from Bihar and Odisha, have left causing the industry to face a major manpower shortage.
Of the nearly 450 developers in the city, 100 have begun work with locally available daily wage workers. But that, according to realtors, has pushed up costs. Further, the number of workers available is vastly inadequate, they say.
P Koteswara Rao, chairman of Credai (Confederation of Real Estate Developers Associations of India), Visakhapatnam said, "The shortage of an active labour force has forced us to manage with the little locally available labour. We have to pay them Rs 100 extra per head per day."
"Further, the unavailability of material— cement, iron, tiles— has also put us on the face of a challenge," Rao said while adding that the real estate sector had resumed operations on April 15 following government guidelines, but is having a lot of difficulty with migrant workers gone.
"Migrant workers, particularly those from Bihar and Odisha, are sincere, hardworking and ask for lower charges. But they have gone back home on Shramik trains," the chairman of Credai-Visakhapatnam said. He added that costs have gone up significantly since April 15, by nearly Rs 300 per square feet.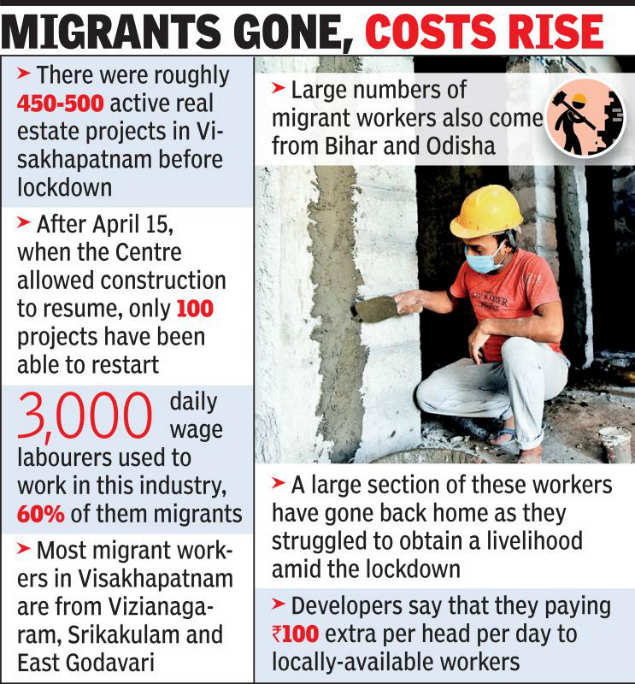 Further, a Madhurawada-based developer said that procuring material has also become a difficult task. "We procure tiles from Gujarat. That has become extremely difficult now. We are spending more time and money, which automatically increases the cost of our project," he said.
Another developer complained about the increased cost of cement. "The price of cement has gone up by Rs 100 to Rs 150 a bag," he said. "The construction sector will be under huge stress till the end of this financial year," predicted a key developer registered with Credai Visakhapatnam.