They've been waiting for 15 years but over 7,000 plot buyers of TDI City Kundli, a residential township project in Sonipat, say they still have no idea when they will get possession of the piece of real estate they bought, if at all they do. They allege that the developer has not yet demarcated the plots sold to them on a 1,000-acre land, a part of which is not in its possession.
Launched in 2005 by real estate company TDI, the residential project is a mix of plotted housing, highrise buildings and independent houses. Over the first 5-6 years, thousands of families had invested in the township spread across a total of 1,200 acres. Uncertain about the future of their investments, the families are now running from pillar to post to claim possession of their plots or at least recover their money.
Other than the developer, investors have also questioned the role of the town and country planning department, asking why it had not sought accountability over such a long time. Subhash Garg, president of TDI City Welfare Association, claimed even when 30% of the project land was not in the developer's possession, DTCP renewed its licence. "One of the conditions for issuance of licence is an environmental clearance before the start of any construction activity at the site. TDI applied for the environmental clearance only in 2017, yet licences were renewed prior to that, and that too despite complaints from plot owners."
According to a recent RTI reply from the DTCP headquarters in Chandigarh, all licences of the project have lapsed and the chief secretary of Haryana has ordered DTCP not to renew the same. "In such a scenario, who will be held responsible for this fraud with innocent plot owners who have been cheated?" asked Garg. The RTI query was filed by one Sandeep Sachin.
Manorama Sharma, an 82-year-old retired Delhi University professor, had purchased a 350 sq yard plot at TDI City Kundli in 2007. She used her retirement funds to pay around 90% of the cost, hoping to build a house where she could spend her old age. Sharma has given up on house now; she said she still has no idea about the exact location of the plot "as there is no demarcation, forget basic amenities in the area".
Similarly, Sandeep Garg, a doctor at LNJP hospital in Delhi, said he and his brother had booked a plot as an investment for the future, especially his daughter's higher education. "All our dreams have been shattered, with no hopes of getting our plots. The agencies concerned must take action against the developer," he said. Of the total 8,820 plots in the township, occupancy certificates for only 97 have been issued.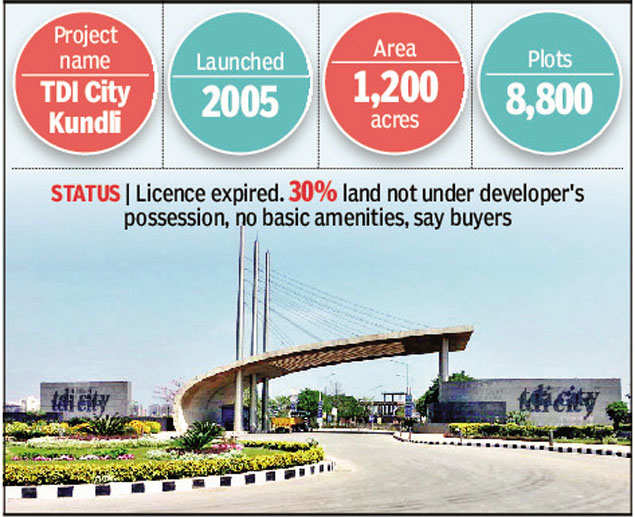 The plot owners said all complaints against the developer had been ignored by various departments.
The chairman of TDI group, Ravinder Taneja, refuted the allegations. "The renewal of the project licences has been done in line with the policy of DTCP. We have also delivered 95% of the project but the delay is due to non-construction of sector roads by the government. We have also deposited Rs 500 crore external development charges for infrastructure development to DTCP," he said.
Asked about allegations of land not being in TDI's possession, Taneja added, "Only land measuring some 50 acres is stuck as farmers are not giving us possession for various reasons. So, we are allotting alternative plots to the investors." Of the total 8,820 plots in the project, around 40 houses have been built on 97 plots. Around 1,200 to 1,500 people live here.
When contacted, the director of town and country planning department, KM Pandurang, said they don't renew licences without following the due process. "I will, however, get the matter investigated and take action accordingly," he said.