In a crackdown against sale of properties without necessary approvals, registration of thousands of open plots has been stopped by the government across Telangana.
Since February 22 the stamps and registration department has been directed by the government to not register open plots in unapproved layouts. "This move will act as a deterrent for developers from selling open plots without approval of authorities," a top government official said.
The municipal administration department has made it mandatory for developers and property buyers to submit approved layout plans or the Layout Regularisation Scheme (LRS) papers before applying for registration of open plots along with other documents.
"Under the 2019 Municipalities Act, the municipal authorities have powers to ask the registration department to not register open plots in illegal layouts," a senior registration department official said, adding: "The decision has been taken to stop proliferation of such layouts."
Municipal commissioners have written letters to sub-registrars to stall registrations, officials said.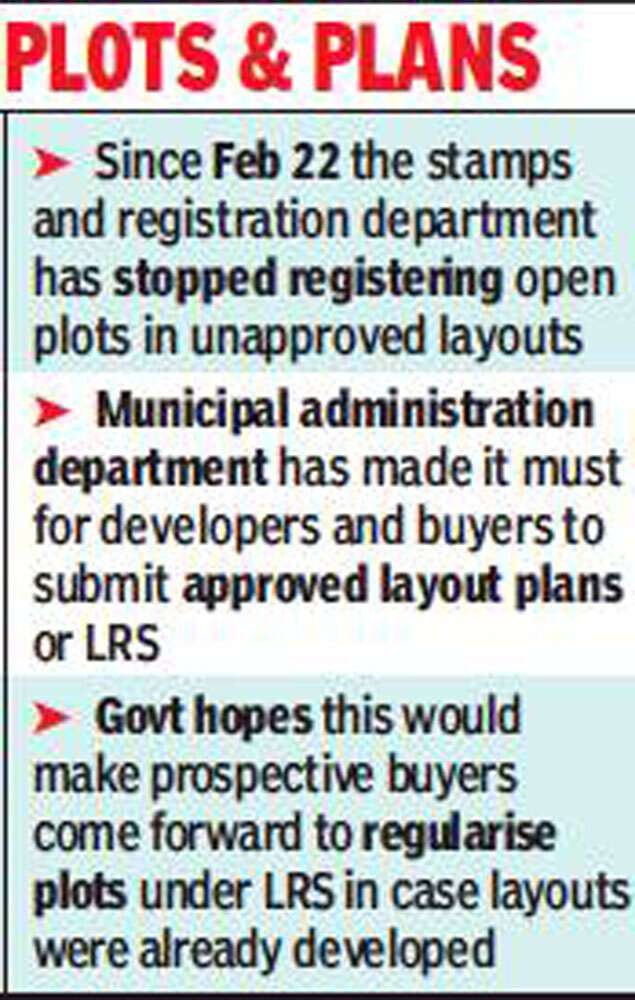 Sources said this move would make prospective buyers come forward to regularise their plots under LRS in case the layouts have already been developed. In the past few months, the registration department has been insisting on mutation proceedings for registration of properties (houses and flats) if it' a re-sale along with property tax receipt mainly to put an end to unassessed properties.
In April last year, the Hyderabad Metropolitan Development Authority (HMDA) had written a letter to the registration department to not register plots in unauthorised layouts. HMDA commissioner and principal secretary, municipal administration, Arvind Kumar told the registration authorities that HMDA would share the details of all approved layouts in a dynamic manner to prevent illegal layouts mushrooming and gullible buyers investing in it. This proposal, however, did not make much headway.
But the fresh development has the registration department worried about the impact on its revenues. "Due to economic slowdown, there is no revenue growth in the department, especially in the municipalities and surrounding areas of Hyderabad. The new clause will adversely affect our revenues from registrations," said a senior official of the stamps and registration department.