The stamp duty cut by state government has spurred realty transactions in the city. The move has halved the effective stamp duty rate levied on purchase of property to 3% in the city against 6% earlier.
The current rates are effective from September 1 to December 31, 2020. In September itself, there was a 75% increase in the number of sale deeds registered in the city compared to that in August. The data for October is yet to be complied but sources said that the trend was expected to continue.
Builders said there was a major jump in the mid to low priced housing segment, with many who had held up the buying quickly inking the deals.
The increase in registrations indicates the rise in property dealings. Stamp duty has to be paid along with registration and is levied over purchase of property.
As against 3,942 sale deeds registered in August, more than 6,500 were registered in September, a hike of 75%. The duty collection too has grown by over 13% in September over August figures. In September, Rs 40 crore was collected against Rs 35 crore in August, according to data shared by the registrar's office here.
The collection, though, is still less than the monthly target. Due to the pandemic, the department has not been issued fresh targets for the fiscal. As it continues with the previous year's targets, the achievement on monthly basis is lagging.
With yearly target of Rs 785 crore, the average monthly duty collection is expected to be in the range of Rs 65 to 60 crore. At Rs 40 crore, September collections are thus behind the target. This is due to the reduction in rate of duty, said officials.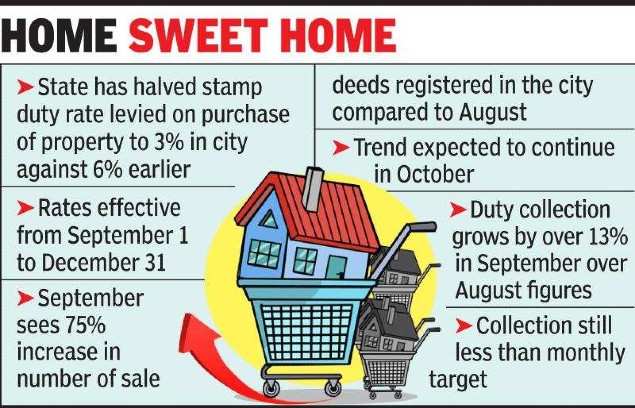 The lockdown in March had brought down property transactions to negligible levels. Only eight deeds were registered in the month of April. In May, there was a jump and 841 documents were registered. In ,June it was over 3,900 and over 6,100 in July. It again fell to about 3,900 in August, the data revealed.
The total collection so far stands at over Rs 186 crore which is 23% of the target.
Builders said that the duty cut and other moves by the government had indeed spurred realty buying. Gaurav Agarwala, secretary of the Nagpur branch of Confederation of Real Estate Developers Association of India (CREDAI), said majority of the buying was happening in Rs 20 to 80 lakh segment. Apart from stamp duty, there are other factors too, he said.
"The interest rates on home loans are at a 20-year low at around 6.85%. Even developers are looking to sell properties at competitive rates. At present, persons with steady income like salaried class are looking to buy properties. Even the government subsidy on Pradhan Mantri Awas Yojana is available till March next year," he said.