Spiralling cost of land acquisition is proving to be a major hurdle for Karnataka to convert investment proposals into projects, and investors are now looking beyond the state's borders for land that's available at nearly half the rate.
The spotlight is back on high land cost for industries in Karnataka with Bengaluru-based cab aggregator Ola recently deciding to invest Rs 2,400 crore to set up a factory to manufacture electric two-wheelers in Hosur, Tamil Nadu, reportedly because it found land cheaper there. According to government sources, land rates in Hosur are nearly 50% cheaper than in districts around Bengaluru.
Around 20% of the project cost used to be spent on acquisition of land in Karnataka. Now, it has worryingly shot up to 30%-40% of the total project cost, particularly in districts around Bengaluru, according to industries department officials. For perspective, one acre of land in Bidadi costs between Rs 2.5 crore and Rs 5 crore; in Devanahalli, in the vicinity of KIA, the rate ranges between Rs 6 crore and Rs 10 crore. The per-acre land rate in Hosur is in the range of Rs 3 crore to Rs 5 crore — on par with Bidadi.
As far as industrial land is concerned, an acre of land around Hosur is about Rs 70 lakh against Rs 2.8 crore around Bengaluru. According to the government, the State High-Level Clearance Committee and State-Level Single-Window Clearance Committee have cleared investments worth Rs 3.7 lakh crore from 2015 to 2020, which together require 43,000 acres of land.
7,311 acres approved for 21 industrial areas: Govt data
The state said it has so far acquired 14,585 acres of land. However, government records said 7,311 acres have been approved for 21 industrial areas in Karnataka. The rest is under the acquisition process, a KIADB official said.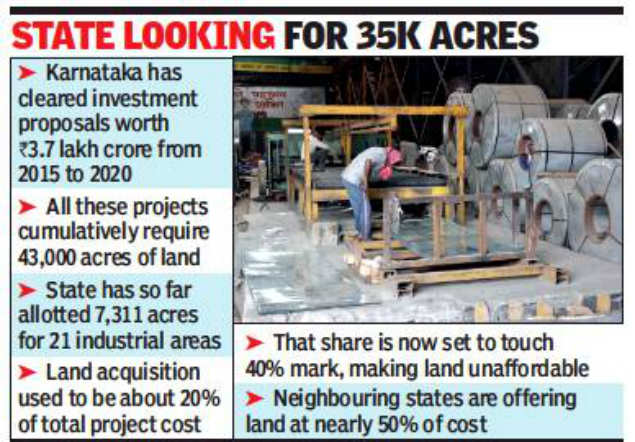 Another problem is that most of these land parcels are in north Karnataka. The state's efforts to lure investors with incentives to tier 2 and 3 cities have met with little success as most investors prefer their projects closer to Bengaluru since it also acts as a gateway to TN and Andhra Pradesh.
According to industry department officials, Karnataka faces the threat of flight of capital only because of high land cost. An officer admitted the state's policies and incentives are almost negated by the land issue. The state has now pinned its hopes on the new land reforms Act, which has removed cap on buying agriculture land. "This will help industries buy land directly from farmers, and it may work cheaper," said FKCCI president Perikal M Sundar.
"There is no dearth of land in Karnataka, which continues to be a preferred investment destination. We'll see more traction in the coming days," said industries commissioner Gunjan Krishna.
President of Karnataka Employees' Association BC Prabhakar said: "Industries still prefer to invest around Bengaluru because of its favourable atmosphere. However, other states have been attracting industries with land at affordable price. The government needs to absorb part of the land cost if it wants investors to remain within the state."