The Kolkata Municipal Corporation was set to start a facility, under which property owners could apply online for mutation, announced deputy mayor Atin Ghosh on Tuesday.
He made this announcement in response to a query by RSP councillor Debasish Mukherjee on long-pending mutation cases at KMC borough offices.
Ghosh, who is also in charge of the KMC revenue department, said the KMC assessment department officials would track the applications and a timeline would be given within which the mutation process would be complete. The exercise, according to Ghosh, aimed at sparing property owners unnecessary delay. He pointed out the simplified process would nudge more property owners to get their mutation done and that, in turn, would fetch the KMC revenue.
In reply to Mukherjee's query, Ghosh said over 500 mutation applications had been pending at the Gariahat assessment department alone. Of these, around 60 cases were more than two years old. "We have decided to speed up the mutation process and that is why, we have developed the network for the online application facility. If property owners want a simple mutation, where there is no legal hassle, we will respond to an online application within 24 hours and issue the certificate by 48 hours," Ghosh said.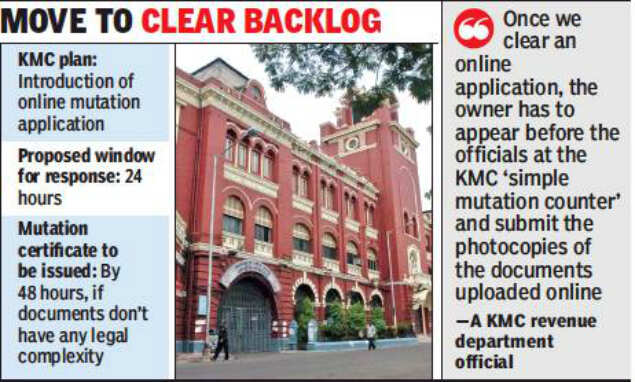 According to sources in the KMC assessment department, after getting clearance for their online mutation applications, property owners-they should not have any complexity or anomaly in documents-will have to visit a "simple mutation counter" at the civic headquarters near New Market.
"Once we clear the online applications, the owner has to appear before the officials at the KMC 'simple mutation counter' and submit the photocopies of the documents uploaded online," a KMC revenue department official said.
The KMC assessment department has also decided to bring city's unassessed properties into its fold. "We sent our inspectors to different parts of the city to inspect unassessed properties. While we have zeroed in on some properties, the teams are in search of many more, especially in added areas of Behala, Tollygunge, Jadavpur and stretches off EM Bypass," said a KMC assessment official. Sources in the KMC said most of the unassessed buildings recorded were in areas off Bypass.