KMC would not sanction building plans for high-rises in neighbourhoods that lacked a proper underground drainage system and where the civic body could not supply adequate filtered water, announced Kolkata mayor Firhad Hakim on Tuesday.
The civic authorities had to take the decision, he said, to alleviate water crisis gaced by different areas in the city and the inundation problems.
High-rises are those buildings that are over 15.5 m high (around 47 ft or, generally, G+4 and above).
The announcement was made when CPM councillor Ratna Roy Majumdar raised the issue of large-scale water shortage in Behala, particularly in pockets, where sprawling housing projects were coming up. "Major real estate groups are building mass housing projects in Behala neighbourhoods, including Sakuntala Park, Behala Chowrasta, Sarsuna and Joka.
Thousands have been buying flats. But when they actually start living there, they face acute water shortage," she pointed out. Roy Majumdar added that moreover, owing to absence of an underground sewer system to flush out excess rainwater, roads in Behala were regularly flooded after showers. "It becomes nightmarish for residents in monsoons as they have to wade through waterlogged roads," she said.
"We have taken note of large-scale housing projects coming up in areas, which face filtered water and sewerage problems. That is why we will not allow big projects in areas, where we won't be able to provide these facilities," Hakim said. The mayor said the civic water supply department had already taken up multiple augmentation projects in areas, where residents had to depend on ground water, including the KEIP, under which sewer lines were being laid in areas that did not have a proper drainage system.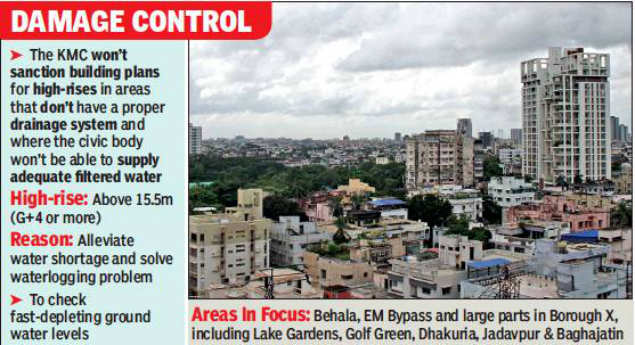 Nihar Bhakta, a Behala CPM councillor, said locals often asked him about civic body's plan to supply filtered water to Behala. Echoing Roy Majumdar, he said the authorities were giving approvals to real estate players for big housing projects without arranging for filtered water or a drainage system. RSP councillor Debasish Mukherjee pointed out that even large parts of Borough X, including Lake Gardens, Golf Green, Dhakuria, Jadavpur, Baghajatin and Ramgarh, faced water crisis, more or less, for the same reason: the area did not have the infrastructure to support the real estate boom there.
Opposition councillors also complained that large residential as well as commercial projects off EM Bypass had to depend on ground water, leading to the depletion of groundwater levels.
Hakim pointed out the KMC brass were aware of the depleting groundwater level and that is why, decided against allowing large-scale mass realty projects without looking into the filtered water and drainage infrastructure of the area.