After failing to attract buyers, the Haryana Urban Development Authority (Huda) has finalized the reserve price of 10 commercial sites in the city to e-auction them during the Navaratras.
The date has been postponed to an auspicious period, expecting increased participation of people during the festive season.
Earlier, the Huda officials had finalized two dates for the e-auction of 103 commercial sites – September 20 and October 21. But now, they have listed only 10 sites, along with their reserve prices in the list.
These sites include a double storey structure (DSS) in Sector-8 with a reserve price of Rs 3.18 crore, a corner booth (with storage on first floor without basement including side corridor) in Sector-9 has a reserve price of Rs 2.49 crore, other booths (with storage on first floor without basement) including two in Sector-9 have Rs 1.13 crore reserve price, a corner one in Sector-10 internal market with Rs 2.24 crore reserve price, one in Sector-14 has Rs 90.76 lakh reserve price, four in Sector-25 including reserve price of two booths as Rs 79.41 lakh each and the rest two with Rs 91.04 lakh each.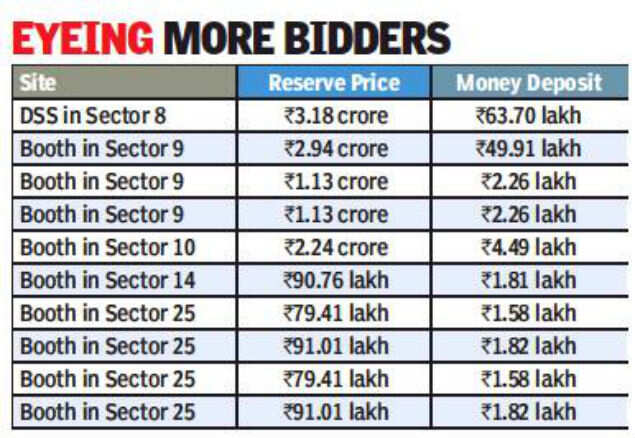 The last date for registration of e-auction is October 1, till 5 pm. The e-auction will start on October 4, at 9 am and end at 2 pm.
Huda estate officer (EO) Mamta Sharma, said, "The dates were postponed to Navratri as people tend to purchase properties during the auspicious period and more participation is likely in the e-auction."
The Huda officials are also conducting survey of physical availability of the sites and a list will be prepared and rest of the commercial sites, include shop-cum-office (SCO), DSS, shop-cum-flat (SCF) and booths will be e-auctioned in the near future.
The officials said anyone can participate in the e-auction after registering on www.hsvphry.org.in website. Those interested have to deposit 2% of the reserve price earnest money deposit (EMD) of the sites for taking part in their e-auction.