Hundreds of apartment projects have come under the scanner of Karnataka Real Estate Authority (K-RERA) for not adhering to the deadline and not submitting status reports regularly.
Data says completion date has expired for 512 projects, but their builders have neither applied for extension nor have they submitted the mandatory quarterly updates.
RERA rules mandate builders to declare the date of completion while signing agreement with buyers at the initial stage. Also, they must upload the project status once in three months on the web portal of K-RERA. They are liable to pay penalty up to 10% of the project cost for non-compliance of rules, and the authorities can even attach assets of the promoters to recover the penalty and compensation to be paid for buyers.
"We want to implement the rules strictly. The step will ensure justice to home- buyers and help in streamlining projects that may be stuck at different stages for multiole reasons," said K-RERA secretary KS Latha Kumari.
About 30% of 3,778 registered projects have defaulted on commitment, with failure to deliver flats on time being the most common problem. The rules allow developers to apply for extension of date for an year or so. But not a single quarterly update of 413 projects has been uploaded.
Developers have to give all project details in their quarterly update, which include the amount of money collected from buyers and spent on what component. The report should give a clear picture about the status of the project and what are the pending works.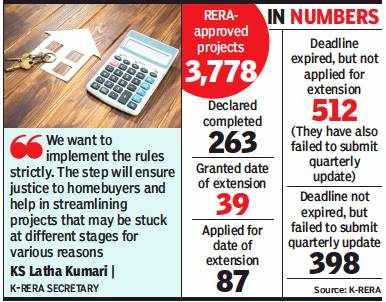 "There may be technical reasons for failure to submit quarterly updates in some cases. We'll be considerate towards such projects, but stringent action will be taken against wilful defaulters," said Kumari.
The authorities have imposed penalty to the tune of Rs 1.8.7 crore on 908 projects for different lapses.
Action was initiated to attach the assets of an entire apartment project in Bengaluru last year to pay for compensation to buyers as the developer had failed to deliver the flat on time.
K-RERA in December imposed penalty on a developer of a villa project near Mysuru and ordered to pay Rs 10 lakh to each of the 400 buyers for falsely declaring completion of the project and collecting maintenance charge from them.
"The order was reassuring for homebuyers and we expect more such action," said Raj Gopal, CEO of a software company and buyer of the villa.