The Bangalore Development Authority (BDA) will auction 12,500 BDA sites in the next few months and will start the process in June by putting 800-1,000 corner plots on the block as part of the first phase.
It has started preparatory work in this regard and the outcome of the first phase of the auctioning — response and bid value, among other things — will help shape the process in the coming months.
"We will start the process on June 1, and will hold the auction every fortnight from then on," BDA commissioner GC Prakash told TOI. The sites are in various residential layouts across Bengaluru city.
According to Prakash, BDA has fixed the minimum bid at 10% higher than the guidance value in that layout. For example, if the guidance value of a site in a layout is Rs 1,000/sqft, then the base price is fixed at Rs 1,100 per sqft.

Govt may fall short of its target: Real estate experts
BDA, which has developed 64 layouts over decades, has decided to conduct the exercise in two phases: First, it will sell some 8,500 corner sites in 54 layouts hoping to reap about Rs 7,000 crore. In the second phase, it will auction 4,000 plots in the newly developed Nadaprabhu Kempegowda Layout, near Kengeri, after October.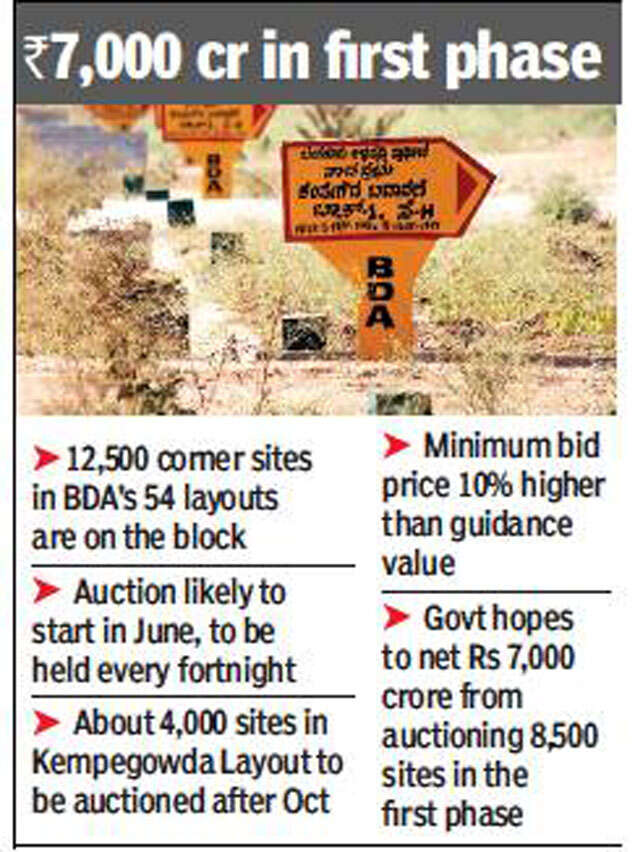 Though the government is bullish on the exercise, real estate industry observers said it may fall short of the target both in response and revenue because of the liquidity problem unleashed by the Covid-19 pandemic. "If BDA starts auctioning from June, then it may not find the right kind of buyers. Corner sites are usually of bigger dimensions and people willing to buy may not be able to afford them," said a realtor refusing to be identified.
Besides, the government is set to regularize illegal structures in both urban and rural areas, hoping to fetch at least Rs 6,000 crore. It also plans to regularise 35 lakh buildings across the state. Of them, 3 lakh buildings are in Bengaluru city alone.