More than 64,000 houses in Bengaluru don't have rainwater harvesting(RWH) facilities and they don't mind paying fines for it. Even doomsday predictions of Bengaluru running out of water by 2025 are not spurring them on. Neither is the fact that RWH is compulsory.
The Bangalore Water Supply and Sewerage Board WSSB (amended) Act 2009, Section 72-A, says that rainwater harvesting systems are compulsory for all buildings built since 2009 measuring 1200 feet and above and buildings built before 2009 measuring 2400 feet and above. If the act isn't followed through, penalties will be imposed. It is applicable for both residential and commercial buildings.
Yet, thousands of house and building owners continue to defy this.
As of May 2019, 1,20,000 buildings have implemented the rule while 65,464 buildings haven't, says B M Manjunath, Public Relations Officer, BWSSB and person in charge of the Visvesvaraya Rainwater Harvesting Theme Park. "If the rules aren't followed, the residents of the building are penalised with their water bill. It's mandatory by law. Once the system is implemented we will stop penalising. Those without RWH during field readings," says Manjunath.
Though the rule was introduced in 2009, it was actively enforced in 2011. The penalties are collected through water bills. The buildings are given a three-month warning and after that residential buildings are charged 25% of their bill for another three months. After that, they are charged 50% of their water bill as penalty until they install RWH. Commercial buildings are charged 50% of their bill from the fourth to sixth month and 100% of the bill after the sixth month till RWH is implemented.
Fines are fine

BWSSB has collected nearly Rs 3 crores in fines from February 2017. South Bengaluru has the maximum number of buildings without RWH, at 20,000 buildings, followed by 11,000 buildings approximately from West Bengaluru. The remaining 26,000 buildings are from the North, East and Central Bengaluru. Residential buildings are more than commercial buildings and individual houses surpass apartment buildings.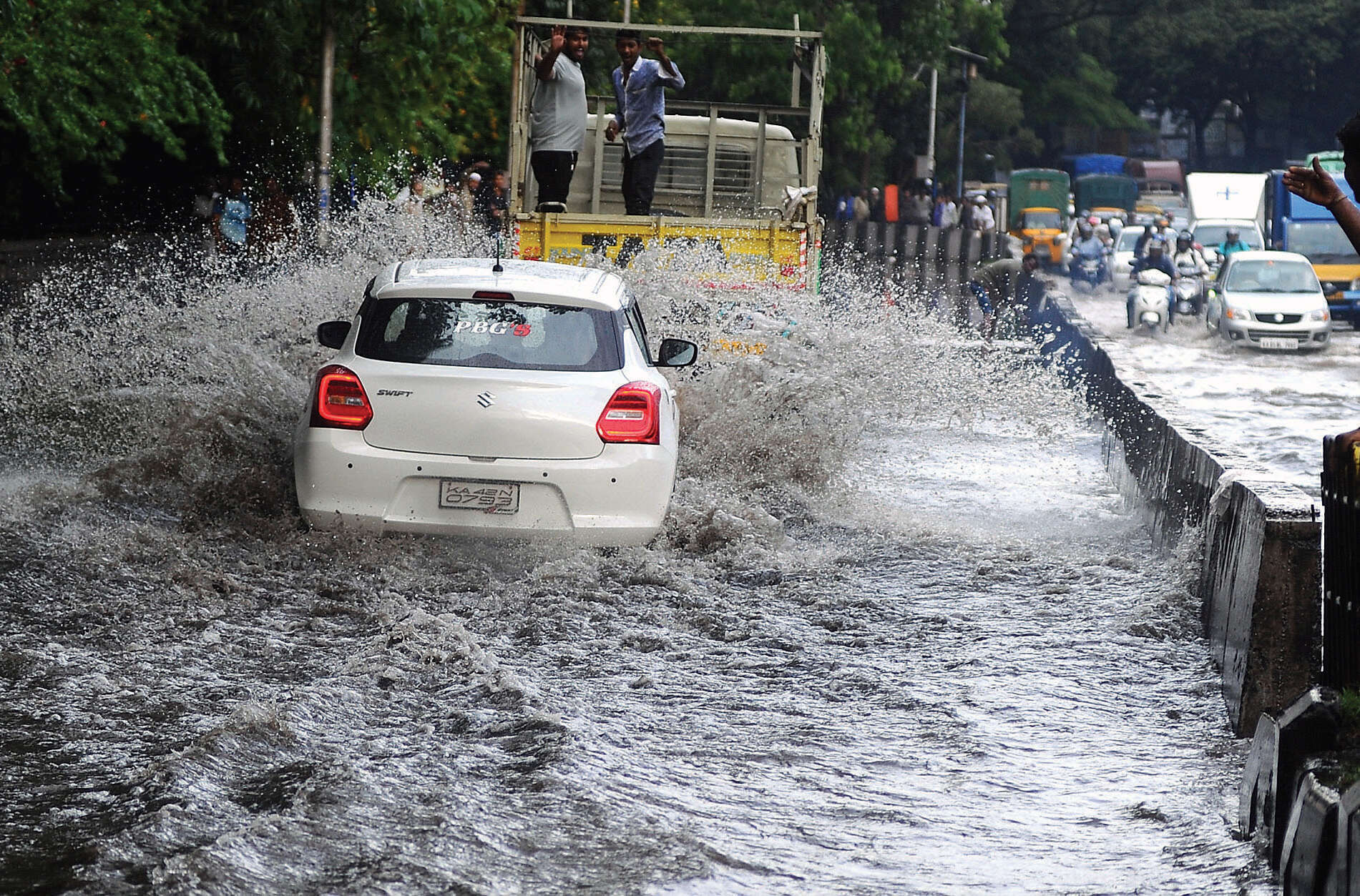 Not using RWH:

This resident is one of the many thousands in Bengaluru whose building of 150 apartments does not have RWH. "There is a plan. A group of volunteers wanted to form a sub-committee to put RWH in place but it did not take off since not many were free for it. We use water from a borewell and private tankers, and not Cauvery water. That's why I think we are not being fined. It wasn't a compulsory rule when we moved into the apartment, but we are planning on executing it by the next monsoon, since it is compulsory now."
WHY RWH in monsoon

Amal Padmanabhan, a rainwater harvesting expert, says the rainy season is the best time to take up RWH if you haven't. It is sad that we use borewells (underground water) during the rainy season instead of tapping into rainwater. Hence, water becomes scarce in the summer as the limited amount available is already used up. Further, groundwater recharging must be implemented to counter the depleting groundwater table," he said.
"We have asked BWSSB to connect RWH lines to storm water drains, instead of sewage lines. Sewage lines are smaller is size, and explode and create puddles. Storm water drains must be connected to lakes, eventually filling up the underground water table or evaporate and come down as rains, but that doesn't happen in the city," Padmanabhan said.
Currently, BWSSB is supplying 1,453 MLD (millions of litre per day). "This amount is sufficient for now. It will gradually reduce as the rains have started. If everyone implements rainwater harvesting, then Cauvery water can be supplied to only those houses that need water," adds Manjunath.
RWH by choice

Purushothaman P has installed rainwater harvesting systems 15 years ago and is still reaping its benefits. "I had RWH installed even before it was made compulsory. I only use water collected through RWH for all my needs, other than for drinking. We use Cauvery water only for drinking. I have two tanks with a capacity of 30,000 litres each, which fill up with a good amount of rains. The excess water is directed to recharge wells. It is actually very simple to implement it, even an ordinary plumber can set it for you, as long as you have space." Not to mention the savings on water bills. "As far as Bengaluru is concerned, the whole system is wrong. The concrete drains set up don't allow water to penetrate into the ground. I even suggested that we must drill some percolation holes in them, but BWSSB didn't agree to it," said Purushothaman.