For years, a large number of house owners in Delhi occupied buildings on the basis of C and D forms — issued during various stages of construction — without getting a completion certificate. Corporation officials tasked to check this turned a blind eye and this became almost a regular practice.
So, violations were not compounded and non-compoundable infractions not brought on record. Builders and contractors benefited from this greatly. They were able to show more FAR even as officials looked the other way.
About two months ago, South Delhi Municipal Corporation (SDMC) suddenly started sending out notices to house owners for obtaining completion certificates, pointing out that otherwise they were in illegal occupation of their buildings. The notice warns of punitive action like prosecution and sealing, giving a small window, in some cases as small as three days. The flurry of notices has made resident welfare associations wake up and take notice.
The notices are being issued irrespective of age of the building or period of construction with the corporation casting its net wide. While the residents are culpable for landing themselves in this mess, it was facilitated by the builder-architect-official nexus over the years and now it has come back to haunt them. Violation of the DMC Act, 1957 — which was always in force — is being cited to throw the rule book at the residents.
The civic body claims the exercise aims at improving SDMC's ranking under easeof-doing business and is in the larger interest of people.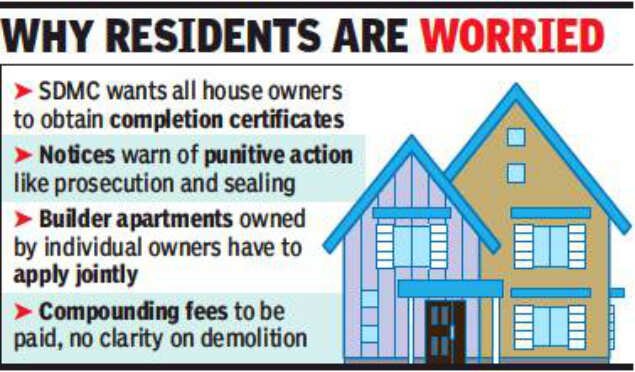 FINAL CLEARANCE

'How will a piece of paper make buildings safe?'

Its officials are questioning why a mandatory requirement was not fulfilled by the residents. "It could be due to negligence, construction done beyond permissible limit or in violation of the sanctioned plan or non-fulfilment of other norms, such as obtaining fire NOC in case of residential units above 15 metre height. This has forced us to act so that at least the newly constructed buildings abide by the norms," said a senior official of SDMC's building department.
"A completion certificate will ensure safety of people and minimise chances of a fire or building collapse. Now that we have started issuing certificates, residents should cooperate with us. Further, we aim to meet the criteria of World Bank for giving construction permit to building owners. Under this, all documents — such as building plan, sanction plan and completion certificate — are verified," said the official.
Apart from the fact that many owners of old constructions today may not be in a position to pay the huge amounts that will be asked for, there are other complications too. Many house owners in south Delhi entered into collaborations with builders or even sold off their plot where apartments have come up now. These have individual owners who are in many cases strangers and clueless. The corporation wants them to jointly hire an architect, submit a completion plan and apply for a completion certificate with the compounding fees and penalties if any.
P K Paul, secretary of East Bengal Displaced Person's Assocation — apex residents' association of Chittaranjan Park — has written to the commissioner pointing out that this is creating a huge problem. "We have suggested that the corporation should allow issuance of floor-wise completion certificates for a building. Owner of a flat in a building may get the completion drawing for his flat made through an architect and submit the same to SDMC.
"If there is violation like excess coverage in the flat, then the individual flat owner will pay the compounding fee or the penalty. Even now each flat owner is paying property tax for his respective floor and even the sale deed and water and electricity connections are given to individual flat owners," he says.
A house owner in Kalkaji, who didn't wish to be identified, asked whether non-compoundable violations will be demolished by the corporation. "That will create complete chaos. And
if they are not planning on demolishing anything, how will a piece of paper help in making the building supposedly safe?"
A member of the Safdarjung Enclave RWA said no site inspection was done by SDMC after some residents applied for a completion certificate. "The civic officials just accepted the plan and compoundable fees submitted by the architects on behalf of the residents. And no one came here to verify if these buildings were fulfilling the norms," he claimed. Greater Kailash II house owners have also received the notice. Sanjay Rana, president of GK II RWA, said that some people have either submitted their completion certificates as proof or paid the compoundable fees.
"When people approached us, we contacted the civic agency for clarification. We were told the procedure has been made online and simple. Though we are not against the notice, why has it taken so long for the corporation to ask for compliance?" he asked.